Stanley Park trails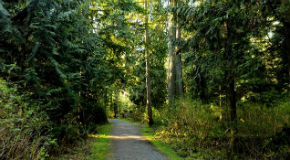 Forest trails in Stanley park offer more than 27 km of quiet refuge, far from the crowd, on the park's more developed periphery.
These wide, bark-mulched interior paths give a taste of what this peninsula must have been like centuries ago when, before logging, its towering cedar, fir and hemlock forest reigned supreme. In fact, many pathways were previously used as 'skid rows' where lumberjacks pulled felled trees to the water's edge for 'log booming' to the nearest sawmill.
These oldest trees are known as 'monument trees' and can be discovered by park trail blazers in three distinct areas: off Siwash Rock Trail, Third Beach Trail, and north of Beaver Lake on Lake Trail.
About the trail names
Trail names recall, not only a city once transported by 'horse power' (Bridle Path), but many early pioneer names as well, especially those who were important in Park Board history (Rawlings Trail - the park's longest trail named after its longest serving Superintendent). Trudging the park's trails will bring walkers and joggers closer yet to nature while keeping them cooler on even the hottest day.
Ravine Trail provides a wheelchair accessible route from the Seawall, where Beaver Creek flows into Burrard Inlet, along the creek up to and around Beaver Lake on Beaver Lake Trail.
Many trails bear the names of individuals who were instrumental in the city's or Stanley Park's early history:
Avison Trail Henry Avison - Stanley Park Superintendent 1888-1895
Eldon Trail G. Eldon - Park Board Superintendent 1896-1909
Lees Trail A.E. Lees - Park Commissioner 1902-1917
Merilees Trail Harold Merilees - General Manager of Tourism Vancouver in the 1960s
Rawlings Trail W.S. Rawlings - longest trail for the Park Board's longest serving Superintendent
Tatlow Trail R.G. Tatlow - Park Commissioner 1888-1905
Thompson Trail C.W. Thompson - Park Commissioner 1937-1938; 1940-1942
Tisdall Trail C.E. Tisdall - Park Commissioner 1904-1909; 1926-1934
Boardwalk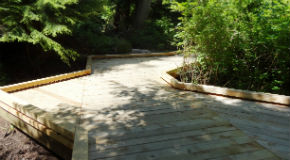 The Cathedral Trail boardwalk, located just north of the Lost Lagoon stone bridge in Stanley Park, is in one of the park's most biologically rich areas.
Made out of western red cedar, the 75 m-long elevated boardwalk protects plants and soil from being trampled, while improving drainage and allowing for the increased movement of small mammals and amphibians. In addition, the boardwalk improves pedestrian safety as it links to a visible crosswalk.
The need for a boardwalk system to control access to and address fragmentation of sensitive habitat was identified in the Stanley Park Ecological Action Plan.