Stanley Park water park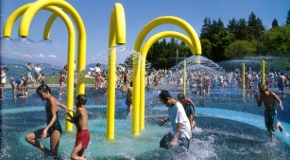 Splash around at the Variety Kids Water Park in Stanley Park, a perfect summertime destination for visitors of all ages. A popular place to cool off for pedestrians and cyclists, the park is unsupervised, and is available on a first-come, first-serve basis.
Location
Located next to the seawall at Lumbermen's Arch, close to wheelchair accessible washrooms, the water park is also a short walk from popular family-friendly attractions such as the Miniature Train, Train Station playground, and the Vancouver Aquarium.
Make use of the surrounding grassy area, nearby concession stand, and picnic tables for a snack and to dry off.
Hours
Variety Kids Water Park is open June 15 to September 1 from 10am to 6pm.

In extreme drought, spray parks may be closed due to water restrictions.