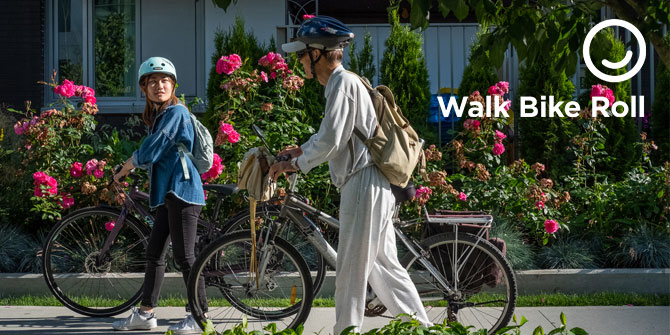 Walk + bike + roll: Getting around the Vancouver way
Our goal: Encourage and support walking, cycling, and rolling so that 2/3 of all trips are made by walk, bike, and transit!
Over the past 20 years, the number of people living, working, and travelling in Vancouver has grown, and there are more trips than ever.
Despite this, the total number of cars entering Vancouver and downtown has declined. More people than ever choose to get around by walking, biking, rolling (skateboard, scooter, etc.), and transit.
By walking, cycling, rolling, and taking transit more often, you're:
Helping your personal health (Healthy City)
Helping the health of your environment (Greenest City)
Alleviating congestion (Transportation 2040) to make room on the streets for vehicles who need to be there most (like goods movement and emergency vehicles)

of trips in Vancouver are made by walking + rolling, cycling, or transit.
How we are improving walking and cycling in the city
We've set specific targets for the number of people walking and cycling to get around Vancouver.
To encourage and support walking, cycling, and rolling, we are:
Building all ages and abilities cycling routes
Encouraging and supporting walking, cycling, and transit
Enhancing pedestrian safety
Keep up-to-date on our project
Follow us on Facebook

Email: walkbikeroll
@vancouver.ca
Related projects:
Our partners
TransLink is the regional transportation authority for Metro Vancouver. In addition to being the transit operator in the region, TransLink plays a key role in planning and funding walking and cycling infrastructure, including sidewalks, greenways, and bike parkades.
HUB Cycling has a mission is to get more people cycling more often. HUB delivers popular events like Bike the Night and Bike to Work Week.
Better Environmentally Sound Transportation (B.E.S.T.) : offers innovative social enterprises, programs, and services to encourage, promote and enable sustainable and active transportation chocies.
Walking and cycling statistics in Vancouver

decrease in distance driven per person since 2007

of trips are made by sustainable modes (walking + rolling, cycling, transit)

of Vancouver's bike network is designed for all ages and abilities (AAA)

of Vancouver residents have a carshare membership


of trips made on foot or by bike involve a friendly interaction
Safety tips
As part of our goal of encouraging people to walk, bike, and roll year round and our goal of moving towards zero traffic related fatalities, we have taken a number of steps to improve transportation safety.
With darker days and wetter weather upon us, visibility is limited and changing road conditions make it harder to see each other.
Whether you're walking, biking, rolling or driving being mindful about how you get around can help make sure everyone gets home safely.
Be seen, be safe
By City of Vancouver
Click on the arrow to learn how to make yourself visible while walking, biking, rolling, or driving.
Lights

By City of Vancouver

Wear a light around your neck or attach it to your bag. Use a headlamp or find a light for walking dogs, which often come with a clip. Make it fun with coloured lights!

Reflectors

By City of Vancouver

To be seen from all sides, attach reflectors to your tires, wheels, and bike frames. Iron or sew reflectors to your clothing.

Stickers

By City of Vancouver

Use reflective stickers to decorate your helmets, bike frames, clothing, bags, and umbrellas.

Vehicle headlights

By City of Vancouver

Make sure your headlights are on. Drive slower when visibility is poor.