West End neighbourhoods
The neighbourhoods have a rich character defined by quiet, tree-lined streets, a mix of building heights and styles, and access to a variety of local services and amenities. The buildings – while aging – are generally in good condition with significant reinvestment, and they provide relatively affordable housing for a diverse population.
The community plan will maintain the character of the four residential neighbourhoods:
Nelson Plateau
Nelson Slopes
West of Denman 
Beach
Incremental change and redevelopment will occur as a way to gradually renew the buildings. Laneways will become secondary streets that can accommodate ground-oriented infill housing.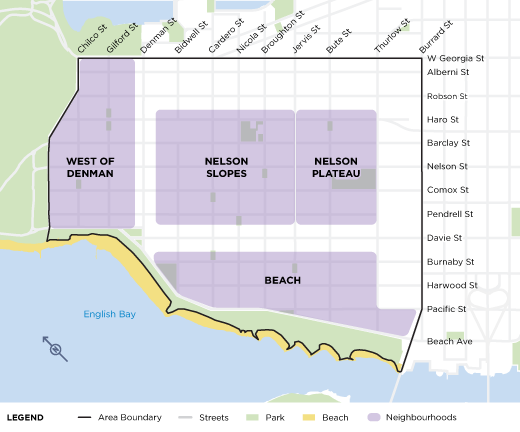 Neighbourhood directions
To maintain and enhance the neighbourhoods in the West End, we plan to:
Keep a primarily six-storey height limit
Continue the existing zoning regulations and the mid-rise and high-rise tower separation guidelines (see RM-5 Guidelines)
Maintain the character of the four residential neighbourhoods, while providing opportunities for new laneway infill rental housing on sites constructed before 1975 to help with reinvestment in the rental stock and to provide housing for families with children and seniors
Encourage the retention of houses by allowing strata-titled infill housing along the laneways
Improve laneways as more walkable public spaces, potentially with improved lighting, gardens, landscaping, and traffic calming, while still maintaining integral service, parking, and utility functions