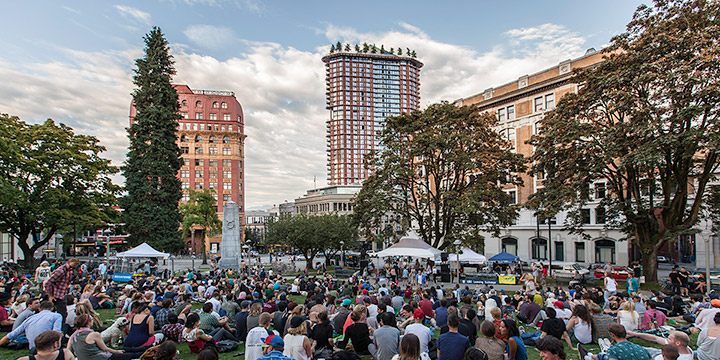 Downtown Eastside Plan
The Downtown Eastside Plan, approved by City Council in 2014, provides a vision, policies, and strategies for the Downtown Eastside (DTES) that focuses on ways to improve the lives of low-income DTES residents and community members.
The plan was developed in partnership with the DTES Neighbourhood Council (DNC), Building Community Society (BCS), and the Planning Committee.
Through each phase of the planning process, there was a range of community engagement opportunities, where residents, business, community groups, and stakeholders shared their ideas and feedback.
Get updates
What's happening
Read the April 2021 DTES Plan Newsletter
April 27, 2021 - The eleventh issue of the DTES Plan newsletter includes updates on parklets, affordable housing, the Special Enterprise Program pilot, sustainability's response to climate change, grants, arts and culture, transportation, healing and wellness, and parks updates in the Downtown Eastside.
Read newsletter (1.2 MB)
---
Special Enterprise Program (SEP) pilot approved by Council
January 2021 - The purpose of this pilot is to urgently address the issues of commercial vacancies, affordability, upgrade needs, capacity building, attraction, and retention of heritage and community-serving businesses, non-profits and social enterprises with a special focus in Chinatown and the Downtown Eastside.
Council approved an initial $500,000 as seed capital to continue supporting the community-serving retail project in Chinese Society Buildings, provide capacity building to heritage and community-serving businesses, and assist potential non-profit and/or social enterprise tenants gain access to vacant or underutilized spaces. This pilot will be implemented in partnership between Planning, Urban Design and Sustainability and Arts, Culture, and Community Services.
View the documents:
Infographics of the DTES Plan
By City of Vancouver
DTES Implementation 2014-2019 (241 KB) and DTES Plan summary 2014
Related projects
Contact us
The Downtown Eastside Plan was developed in four phases.
Reviewing: We identified what the key issues were and what assets we had to work with.
Planning: We developed planning strategies and corresponding action plans. We also identified what would be accomplished, how, and when.
Feedback and approval: We got feedback from City Council and the public, and after incorporating all of the feedback, we presented the plan to Council for final approval.
Monitoring and evaluation: We will measure our results to determine whether we've made a difference and achieved our goals, and assess what's left to do.
View a detailed timeline of the planning process

Previous planning efforts in the Downtown Eastside have served to revitalize the area.
In April 2005, City Council approved the Carrall Street Greenway that now connects Gastown, the Downtown Eastside, and Chinatown. The greenway facilitates economic revitalization and community development in the Downtown Eastside.
On September 22, 2005, the Housing Plan for the Downtown Eastside was adopted by Council. The plan presents a vision for the future of housing in Chinatown, the Downtown Eastside Oppenheimer District, Gastown, the Hastings Corridor, the Industrial Lands, Strathcona, Thornton Park, and Victory Square. It addressed specific housing types: SROs, social housing, market housing, supportive housing, and special needs residential facilities.
From 2008 to 2011, $10 million was given to the Downtown Eastside to celebrate its heritage, culture, and history as part of the Great Beginnings: Old Streets, New Pride initiative.