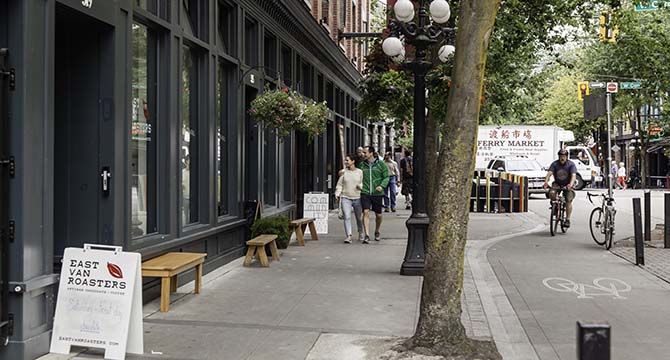 Special Enterprise Program
The Downtown Eastside is experiencing a broad range of challenges that impact the viability of small business and non-profit organizations.
These challenges include:
Increased vacancy
Affordability
Permitting and regulations
Maintenance
Safety
Quality of public space
Access to local employment
The Covid-19 pandemic exacerbated these challenges and reinforced the need for coordinated action to support the local economy.
The Special Enterprise Program (SEP), approved by Council in January 2021, is a 5 year pilot that aims to preserve and strengthen the cultural diversity, long-term viability, and economic opportunity of heritage businesses, social enterprises, and non-profit organizations in Chinatown and the Downtown Eastside.
The purpose of this program
Attract and prevent the displacement of heritage and community-serving businesses, cultural organizations, non-profit organizations, and social enterprises in the Downtown Eastside.
Enhance the capacity of the small business sector to adapt to the current business environment and improve operations.
Assist property owners (non-profit or for-profit with a social purpose) in activating their vacant spaces with businesses or other activities that align with permitted uses, current policies, and respond to community needs.
Key program outcomes
Reduced vacant storefronts
Increased community-serving economic activity
Secured affordable tenure to local community-serving organizations and businesses
Increased life-safety of local building stock
Preservation of cultural assets
Retention and long-term sustainment of heritage businesses
Increased access to employment for low-income residents
Increased access to social and cultural places and spaces for low-income residents
Contact a planner
If you want to learn more about this program, send us an email:
如果您希望瞭解更多計劃內容,歡迎電郵向我們查詢詳情
Get updates