Print
Grandview-Woodland Community Plan
An inclusive, thriving future for a unique, diverse community
The Grandview-Woodland Community Plan sets out a thoughtfully-managed framework for future change and anticipated population growth of about 10,000 people over the next three decades.
The plan protects the heart and soul of the neighbourhood's character, while responding to challenges facing this community and building upon its potential.
Over the coming decades, the plan will preserve the independent and eclectic nature of the Commercial Drive and East Hastings shopping streets, as well as protect the apartment stock, heritage buildings, and the social diversity of the area.
The goal is for the community to continue to evolve as a mixed-income, socially-sensitive place that is transit-oriented and rich in heritage and culture.
Future change and development in Grandview-Woodland would contribute to the plan's strategy to deliver amenities to benefit the community.
Existing facilities and infrastructure will be renewed to address current gaps or community needs resulting from population and job growth.
The Grandview-Woodland plan's Public Benefits Strategy is valued at approximately $800 million in investments over the life of the plan.
A 10-minute summary about how the plan will manage the future of each unique area in the community.
A two-minute snapshot of the plan's goals in the next 30 years.
What's happening
Blocks under review
Winter 2018 to spring 2019 - In July, 2018, Council directed staff to undertake additional technical analysis and public consultation on potential zoning changes in two areas - referred to as "blocks under review - as part of the next phase of Grandview-Woodland Community Plan implementation.
The two areas are shown below. Refer to the Council Report (p.12)

(14 MB) for more information.
Staff met with owners and residents from these blocks and their immediate neighbours on November 27, 2018. Review materials from the engagement exercises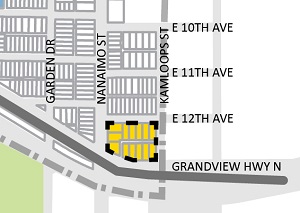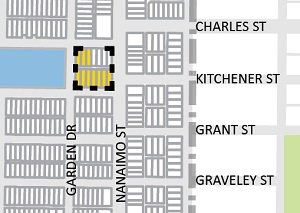 Enactment of changes to Zoning and Development Bylaw approved by Council
September 18, 2018 - Council approved the enactment of zoning changes to create new RM-8A, RM-8AN, RM-11, RM-11N, and RM-12N District Schedules and Guidelines, as well as amendments to the existing C-2 District Schedule and Guidelines.
These zoning changes introduce increased opportunities for housing choice, as well as new shops and services in Grandview-Woodland.
Block under review engagement exercises
Presentations from the workshops held on November 27, 2018:
Summaries from the two Block Under Review engagement excercises we undertook in November and December 2018:
Infographic of the plan
By City of Vancouver
Download the infographic (80 KB)
Infographic of the plan

By City of Vancouver
Related projects
Contact us
Andrew Pask
Planner
604-673-8171
Get updates