Grandview-Woodland Community Plan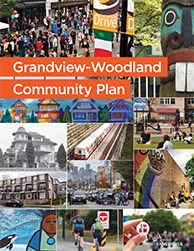 View the full Community Plan (24 MB)
An inclusive, thriving future for a unique, diverse community
The Grandview-Woodland Community Plan sets out a thoughtfully-managed framework for future change, including an anticipated population growth of about 10,000 people over the next three decades.
The plan protects the heart and soul of the neighbourhood's character, with policies that:
Enhance the eclectic nature of the Commercial Drive, East Hastings, and other shopping areas
Create new housing opportunities while protecting the apartment stock, heritage buildings, and the social diversity of the area
Renew and improve public spaces, social and cultural amenities, and critical infrastructure
Support walking, biking, and public transit, and improved access to and through the community
Address important opportunities to support reconciliation, equity, resilience, and environmental sustainability
The goal is for the community to continue to evolve as a mixed-income, socially-sensitive place that is transit-oriented and rich in heritage and culture.
Infographic of the plan
By City of Vancouver
Download the infographic (80 KB)
Infographic of the plan

By City of Vancouver
What's happening
2406-2488 Garden Drive
December 8, 2020 – Council approved an application to rezone 2406-2488 Garden Dr to permit the development of two connected buildings containing 109 residential strata units, with commercial retail space fronting Broadway. The application was enabled under the Commercial-Broadway Station Precinct and Grandview sub-area policies of the Grandview-Woodland Community Plan.
Contact us
Andrew Pask
Planner
604-673-8171
Get updates