Grandview-Woodland Community Plan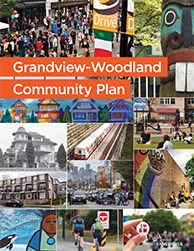 View the full Community Plan (24 MB)
An inclusive, thriving future for a unique, diverse community
The Grandview-Woodland Community Plan sets out a thoughtfully-managed framework for future change, including an anticipated population growth of about 10,000 people over the next three decades.
The plan protects the heart and soul of the neighbourhood's character, with policies that:
Enhance the eclectic nature of the Commercial Drive, East Hastings, and other shopping areas
Create new housing opportunities while protecting the apartment stock, heritage buildings, and the social diversity of the area
Renew and improve public spaces, social and cultural amenities, and critical infrastructure
Support walking, biking, and public transit, and improved access to and through the community
Address important opportunities to support reconciliation, equity, resilience, and environmental sustainability
The goal is for the community to continue to evolve as a mixed-income, socially-sensitive place that is transit-oriented and rich in heritage and culture.
Infographic of the plan
By City of Vancouver
Download the infographic (80 KB)
Infographic of the plan

By City of Vancouver
What's happening
1780 E Broadway (Safeway) – Virtual Open House – November 15 to December 5, 2021
The City has received a revised application for the Safeway site. The proposal is to allow for a mixed-use development with three residential towers from 24 to 29 storeys above a retail plinth. A virtual open house is being scheduled for November 15 to December 5, 2021.
Britannia Community Centre Renewal
In 2018, project partners (the City of Vancouver, Vancouver Park Board, Vancouver School Board, Vancouver Public Library, and Britannia Community Services Society) adopted a Master Plan that sets out the vision for the renewal of the Britannia Community Services Centre. The next phase of works involves a site wide rezoning application. This process will identify the types of uses that can be included on site, and a number of development criteria including building density, heights, and green space requirements.
Contact us
Andrew Pask
Planner
604-673-8171
Get updates