Art and music programs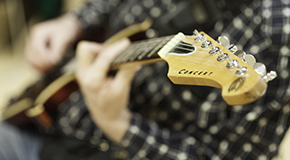 Our art and music programs are open to everyone with a current membership card and recreation pass.
Recreation passes cost:
$1.00 for a monthly pass
$5.00 for an annual pass
Learn more about our programs.
Pottery
Learn the basics of wheel throwing, hand building, glazing, and firing techniques. Enrollment is ongoing and new students are welcome. To register, talk to the instructor on Thursdays between 1:00pm and 6:00pm. There are fees for clay and glazes.
Classes are Thursdays from 1:00pm – 6:00pm
The studio is open for use on Fridays from 1:00pm – 6:00pm
Art classes
Art therapy, drawing, and other art classes are offered during the year, usually for six to eight weeks. To learn more about programs, phone or visit the Gathering Place. 
Music jam
Bring your instrument and come out to one of our casual jam sessions. A sound system and some instruments are available.
Music jams are on Tuesdays and Thursdays from 12:00 noon – 5:00pm