Fitness and leisure programs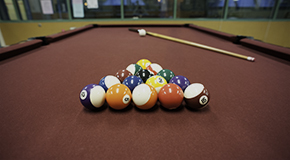 Our recreation programs are open to everyone with a current membership card and recreation pass. Monthly and annual recreation passes are available at the community centre. A recreation pass provides access to the pool room, games room, and weight room, and martial arts and fitness classes.
Recreation passes cost:
$1.00 for a monthly pass
$5.00 for an annual pass
Martial arts and fitness classes
We offer scheduled and drop-in martial arts classes. Call or visit the Centre to confirm class schedules. Our typical class schedule includes: 
Aikido: This modern form of Japanese martial arts is a form of self defense that combines deflection and offense
Judo: This Olympic sport includes techniques such as throws, sparring, arm locks, and pin downs
Kundalini yoga: This form of yoga emphasizes breathing and meditation
Recreation program facilities
Pool room
The Gathering Place has two pool tables. The pool room is open when a volunteer is available to monitor the room.
Weight room
Our weight room has both cardio and weight equipment:
Rowing machine
Treadmill
Elliptical trainer
Stationary bike
Universal weights
Free weights
Bench press
Stand alone equipment
A qualified trainer is available on select days. Visit the centre for more information.
Women-only
The weight room has women-only times on Tuesdays and Sundays, from 10:00am — 11:00am with a female volunteer.
Games room
Our games room has a ping pong table, card tables, card decks, and board games. There are also three Nintendo Cube stations, two Playstations, and a variety of games.
The games room is open daily from 10:00am — 2:30pm and from 3:30pm — 7:45pm.