Print
Camp Ignite - Firefighting camp for young women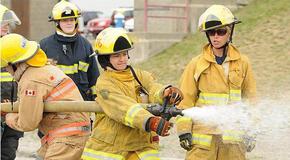 Camp Ignite teaches valuable life saving skills to girls aged 16 to 19 in this unique weekend. Female firefighters from several Metro Vancouver municipalities share their experiences in this camp.
The girls learn firefighting and search and rescue techniques, CPR, and fire extinguisher use.
The program is based on other successful models in the United States. This camp was most recently hosted at the Vancouver Fire Rescue Training Centre on Chess Street.
Participants and organizers say…
Rachelle, who participated in the August 2011 camp, had originally thought about becoming a police officer. During the camp she said, "It's really cool being in the outfits, like you're a superhero."
Jennifer, one of the organizers from Vancouver Fire and Rescue Service explained: "I love the diversity of the job itself. No day is going to be exactly the same. You go to medical calls, you go to fires, we go to motor vehicle accidents… Every day you can be doing a different thing… These kids are going to go back to their communities, and they're going to talk to their friends, and families [who realize] there are women firefighters!"
Media coverage
The video and photo gallery below are reused with permission from The Vancouver Courier.