Union-Adanac Corridor
The Union-Adanac Corridor extends from downtown Vancouver to Boundary Road and connects to Burnaby's Francis Union Bikeway. It's one of the busiest bike routes in the city and a crucial part of our cycling network.
We are making changes at key locations between Gore Avenue and Kamloops Street to improve safety and comfort for people walking and cycling.
In the future, we'll continue to improve other parts of the Corridor, including the sections further east between Rupert Street and Boundary Road.
What's happening
Hundreds of residents provided feedback in January and February via two open houses, online questionnaire, email, and 3-1-1.
Read the open house information displays:
We refined our recommendations based on the feedback received.
Construction will begin on some of the spot improvements in late-spring 2017.
Past updates
Project goals
Improve safety and comfort for people of all ages and abilities walking and cycling along Union Street and Adanac Street
Improve visibility at intersections and crossings to reduce conflicts between all modes of transportation
Further calm traffic in key areas to increase safety for all modes of transportation, while accommodating access needs of residences and local businesses
Enhance the Corridor with new landscaping and lighting improvements at key intersections
View the information displays from our open houses:
Get involved with Green Street gardens
Street gardens are part of the overall improvement of the Union-Adanac Corridor. With the proposed design changes to Union Street, there are a number of opportunities for Green Streets gardens.
Learn how you can start a garden in your community.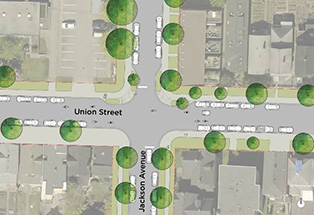 Project timeline
Here is our process and anticipated milestones.
Jan 2017

Propose recommended designs for safety improvements at open houses and stakeholder meetings

Spring 2017

Refine the designs based on public feedback

Fall 2017

Meet with Strathcona Residents Association to present proposed design and gather feedback to incorporate in finalized drawings

Spring 2018

Future

Continue improving other parts of the Corridor like the section between Rupert and Boundary streets
Lighting on Union Street
Following discussions with the community, historic-style lighting fixtures and decorative light stands will be added on Union Street between Gore Street and Campbell Street to recognize prior local improvement contributions to lighting.
Transportation 2040
Upgrading the Corridor addresses our Transportation 2040 goals to:
Make at least two-thirds of all trips by foot, bike, or public transit by 2040
Make walking and cycling safe, convenient, and comfortable for people of all ages and abilities
Manage the road network efficiently for all road users
Contact us
Get project updates