Print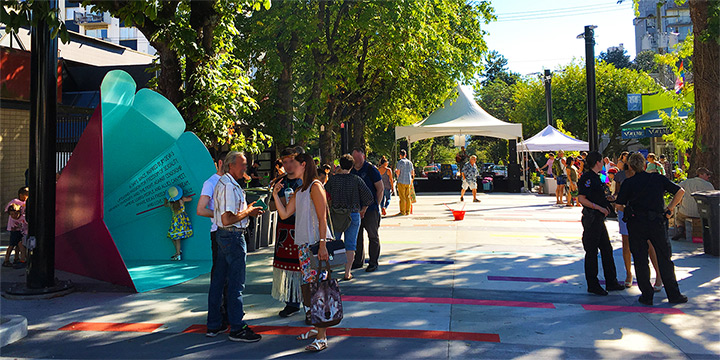 Jim Deva Plaza
Jim Deva Plaza is Vancouver's first pavement-to-plaza project. Located on Bute Street in the heart of Davie Village, the space was created by redesigning the block into a single continuous smooth surface that invites people in to sit and spend time relaxing in this busy urban centre.
This unique community gathering space features a variety of seating and the iconic "megaphone" soap box, commemorating Jim Deva's extensive advocacy work in free speech and gay rights.
The plaza is also home to a mix of fun activities and local events.
Upcoming events at select Vancouver public plazas, including Robson Square and šxʷƛ̓ənəq Xwtl'e7énk Square.
Get the application guide, fees, and checklist to put on your event at Jim Deva Plaza. (External website)
Our partner: West End Business Improvement Association
As part of the plaza project, we've partnered with the West End Business Improvement Association to develop and pilot a Plaza Stewardship Strategy.
Through this special partnership, we're taking a proactive approach to managing the promotional and operational needs of the space to ensure the plaza remains safe, lively, and inviting for years to come.
Plaza history
Jim Deva Plaza began as a part of the West End Community Plan.