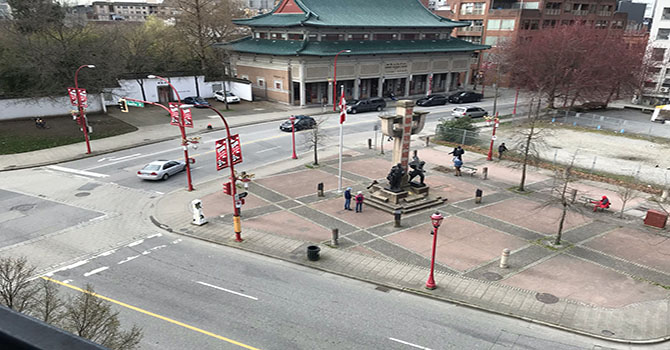 Chinatown Memorial Square Redesign
Chinatown Memorial Square is a valued public space in the cultural heart of Chinatown. It hosts important community events, draws visitors to Chinatown, and provides a space for residents, seniors, customers, and community members to gather and learn about the contributions of the Chinese in Canada and honour their culture and traditions.

This project originated as an important recommendation from the Historical Discrimination Against Chinese People in Vancouver report approved by City Council in 2018. Since then, the Chinatown Transformation Team has been working with the community with the long-term goal of having Chinatown designated as a UNESCO World Heritage Site. Improving cultural assets such as the Chinatown Memorial Square to support Chinatown's living culture is a key component of this work. A preferred concept design for the plaza is anticipated by 2023.

The redesign of the Chinatown Memorial Square also connects to and supports the directions in the Chinatown Neighbourhood Plan and Economic Revitalization Strategy (2012) and the North East False Creek Plan (2018).

What's happening

We are now at Phase 2 – Exploration

After reviewing your feedback in Phase 1 of public engagement, we have drafted a vision and set of principles and goals for the project. We are seeking your feedback on the draft vision and goals, and ideas to increase the size of the square.
Get updates
Provide your name and email address to receive updates about this project.