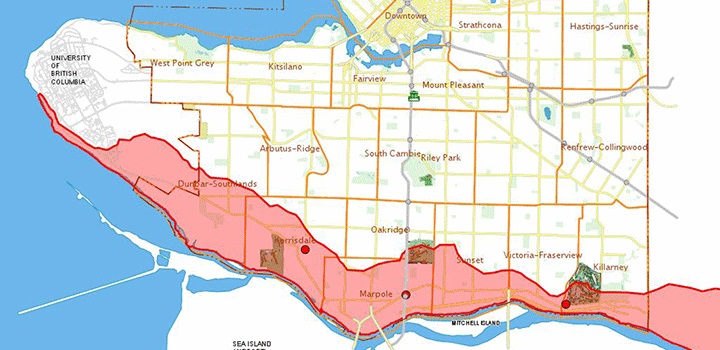 Artesian flood risk
Digging in south Vancouver? Get locations, requirements, and updates on aquifer conditions.
Why you need a permit
There are numerous laws and regulations that relate to construction and renovation work – the building bylaw, zoning regulations, codes for plumbing and electrical systems, and so on.
Permits will only be issued for work that is allowed under these regulations. Permits work in conjunction with inspections, which ensure that the work that was planned (according to the permit) was actually done, and was done correctly and safely.
The City is here to help
For information specific to the proposed project on your property, call the Development and Building Services Services Centre at 604-873-7611. Our staff will help you determine which permits you need, and help you navigate through the process, so you can speak to your contractor with confidence.
If you find out you need a permit after the work has started
The City understands that home owners and contractors, in their enthusiasm to get started, sometimes forget to get permits, or do not realize that permits are required.
If you do not have a permit for work that has already started, and it turns out you need a permit for that work, you could face serious – and potentially costly – consequences, including:
A "work without permit" penalty. This is typically double the original permit fee.
A delay while your permit application is processed. All work must stop during this time. The original timeline and fees to process an application still apply.
Possibly having to undo the work that was done.
Possibly having to do more work than you had originally planned and budgeted for, such as adding fire sprinklers or making seismic upgrades.
Possible legal and /or financial issues down the road, such as impacts on selling your property or making an insurance claim.

NOTE: As the homeowner, you are responsible for paying these fees or penalties yourself even if you have hired a contractor who assured you that permits were not needed.
Contact the Development and Building Services Centre about building and zoning
Location and mailing address
Development and Building Services Centre
Ground floor
515 West 10th Avenue
Vancouver, BC V5Z 4A8
Hours
Monday, Wednesday, Friday
8:30am to 4:30pm
Tuesday, Thursday
8:30am to 4:00pm
Free 2-hour parking
West 10th Ave parking lot,
between Cambie and Yukon
Get permit guidelines
Are you planning a renovation or building project in Vancouver? Find out if you need a permit, and what kind of permit(s) you need.
Review regulations and apply for the required permits for your construction or renovation project.