Site and landscape plan requirements
Before you apply for a tree removal permit, you will need to provide a site or landscape plan with your application.
Site plan requirements
You can draw your own site plan with pen and paper. It must identify all of the following:
All trees existing on the site
Trees to be removed
Replacement trees
Example of a site plan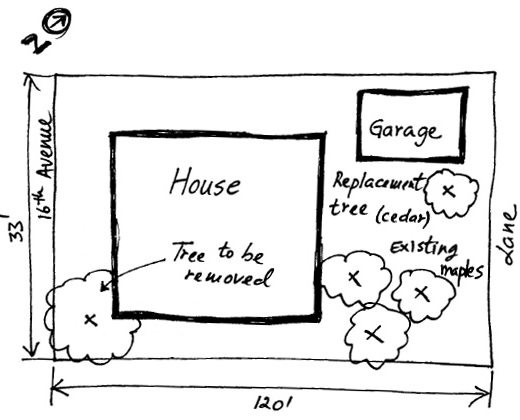 Landscape plan requirements
Your landscape plan has to be professionally prepared. It must include all of the following:
All hard surfaces including:

Sidewalks
Fences
Retaining walls
Driveways
Patios

Utilities above and below ground, including:

Water
Sewer
Gas
Electrical
Power lines

All trees on your site (whether they are being kept, moved, taken out, or taken out then replaced with a different tree), including their:

Location
Diameter of trunk(s) at 1.4 m from the ground
Common name
Botanical name
Minimum size of replacement tree required by schedules A and B of the Protection of Trees Bylaw.  

Trees on adjacent properties if they are within 2 m of your property line
Trees on any City street or lane allowances adjacent to the site
Tree grades (existing tree base elevations) for all trees (except those less than 20 cm in diameter) that are affected by development
The drip line (crown of trees or extent of tree branches) and species (type) of trees (except those less than 20 cm in diameter measured 1.4 m above the ground).
The landscape plan does not include:
Trees less than 20 cm in diameter measured 1.4 m above the ground
Or, in the case of multi-stemmed trees, trees whose three largest trunks or stems, when added together are less than 20 cm