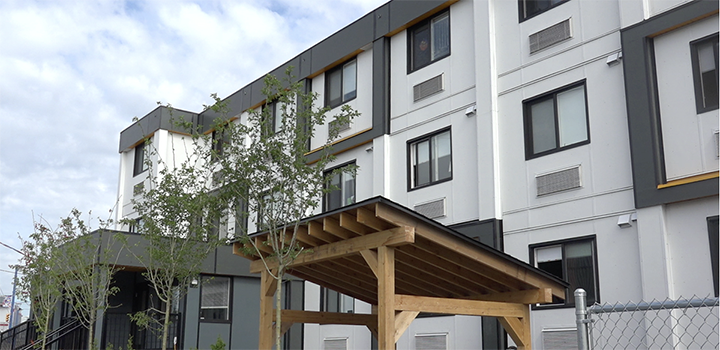 Chartrand Place
24/7 phone for operator PHS Community Services Society
604-620-5327
1131 Franklin St
Former address: 1115, 1131, and 1141 Franklin St
The temporary modular housing at 1131 Franklin Street, Chartrand Place, has one building with 39 studio homes, which have all been filled with new tenants. All homes are self-contained dwellings with a private bathroom and kitchen. A total of seven homes are wheelchair accessible.
This is a supportive housing building. BC Housing has selected PHS Community Services Society as the non-profit operator for this site. The 24/7 building phone number is 604-620-5327.
The building has been named Chartrand Place, after Michel Chartrand. He was a Downtown Eastside resident who was diagnosed with HIV early in the AIDS epidemic and lived longer than expected. Chartrand's memory is a testament to how safe and stable housing can prolong the lives of people in ill health.