Challenging embedded oppression and racism is an ongoing effort and we are committed to working in solidarity with Indigenous, Black, and other racialized communities.
The City is located on the unceded traditional territories of the Musqueam, Squamish, and Tsleil-Waututh Peoples who have lived on these lands since time immemorial.
We are committed to stewarding strong relationships with the local Nations through ongoing communication and partnership development.
The City recognizes our systemic foundation in colonialism, white supremacy, and racism. In order to effect change, we have to critically analyze these roots, examine our role in the ongoing marginalization of Indigenous, Black, and other racialized communities, and commit to reconciliation and change.
We are humbled by the continuous efforts and action of the communities most impacted by systemic racism. We recognize our responsibility to meaningfully respond to this leadership and commit to both dialogue and action as we move forward developing anti-racism and equity strategies.
Find out more about the steps we have taken in advancing reconciliation, anti-racism, and equity actions, as well as our future commitments to ensure Vancouver is a more equitable and fairer place.
What's happening

Anti-Black racism town hall

We thank all the community members who participated in the anti-Black racism town hall on September 24. If you missed it, you can watch the recording on YouTube .

If there was a question we missed at the town hall, reach out to us by emailing equity@vancouver.ca and we will get back to you shortly

Review our analysis of community recommendations:
Ongoing actions
Over the years, we've been working on a number of anti-racism initiatives to create a more equitable Vancouver.
Through both modest and comprehensive action, we are working to tackle racism and white supremacy within the City and Vancouver. This is an urgent priority.
Staff are expediting the City's anti-racism strategy with input from Indigenous, Black, and other racialized peoples and organizations to ensure Vancouver is a safe and just place for all.
Upcoming actions
We have identified key priorities in our next steps to deal with racism and hate in Vancouver.
We understand that these actions are long overdue. We're committed to ensuring these activities are meaningful and respectful of the continuous labour, leadership, and action of Indigenous, Black, and other racialized communities in Vancouver.
As echoed in the calls to justice from Indigenous and racialized communities, anti-racism and equity work is not a one-off process. Our actions are aimed at transforming our internal and external processes to ensure our programming is fair and equitable and to highlight our commitment to being accountable to the wider community.
Our responsibilities
While the City oversees many of the decisions and projects that occur within Vancouver, we do not do this work alone. There are many different organizations and partners who help to make Vancouver the vibrant and diverse city it is.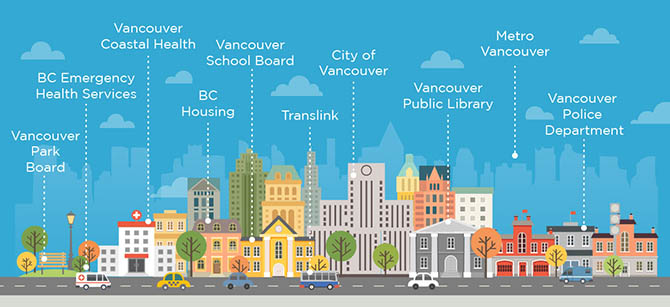 ​​​​​​​
Our role vs other levels of government
There are some areas of jurisdiction that fall under the federal or provincial government such as healthcare, the economy, education, transportation, housing, and others.
Although the City works closely with these organizations to advocate for Vancouver residents, we cannot make decisions on their behalf and have limited control over their operations.
We recognize that communities have called on us to enact more immediate change in policing, healthcare, equity, and other service areas. While some of the requests made fall outside the scope of the City's functions, we are committed to advocating for residents to the organizations that handle these areas.
How our managers work together
Within the City, there are several different service groups (departments) which are led by general managers who report into the City manager.
The City manager liaises with Council and ensures that we meet priorities and goals outlined for the year, and make Vancouver a livable and vibrant city.
These service groups are each responsible for supporting the community and advancing strategic priorities such as encouraging the development of more affordable housing, creating a healthier and more equitable Vancouver, addressing climate change, and maintaining critical infrastructure.
Contact the Equity team
Related committees
Related priorities