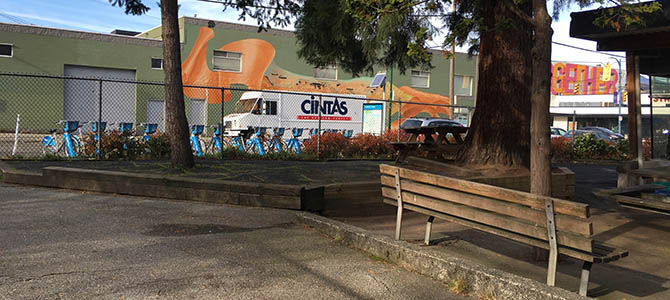 RayCam Community Centre playground upgrade
The Vancouver Park Board is renewing the outdoor play space at the RayCam Community Centre. RayCam is located in an Equity Initiative Zone identified in VanPlay, on East Hastings and Campbell Avenue in East Vancouver.
The community center playground will serve children ages 3 to 12 years who attend the preschool and after school programs. The upgrade includes new rubber surfacing, a custom wood play structure around the existing Sequoia tree, seating, and storage.
The upgrade will be a valuable improvement for the families who use this facility.
What's happening
Our designers have been working with community centre staff to develop this exciting new design, tentatively scheduled to be constructed in the summer / fall 2020.
Review project documents for details:
Timeline
Here are our planned next steps:
Spring 2020

Develop concept plan and prepare construction drawings for tendering

Summer 2020

Hire a contractor to construct the new playground

Summer / Fall 2020

Begin playground construction

Fall 2020

Complete construction, community centre enjoys new playground