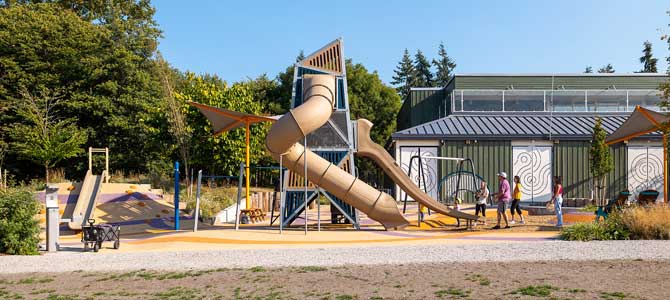 Champlain Heights playground upgrades
The Vancouver Park Board is upgrading the playgrounds in Champlain Heights.
The Champlain Heights community currently has three playgrounds that are in need of replacement:
One large playground at the community centre
Two smaller playgrounds within the walking paths between Champlain Crescent and Matheson Crescent
A local landscape architecture firm has been hired to redesign the playground at Champlain Heights Community Centre and to assess the condition of the neighbourhood playgrounds within the walking paths.
What's happening
New playground in Champlain Heights
As part of the ongoing improvements to the playground within Champlain Heights, a new playground will soon be completed upon the Red Alder Trail, south east of the community centre.
This playground will feature all new play structures and swings for children to enjoy, plus extra seating, accessible pathways, and natural elements.

​​​​​​​We thank you for your patience and hope you enjoy this playground within the overall Champlain Heights playground upgrades project.
Timeline
Here is our progress and planned steps.
December 2018

Winter 2019

Winter 2019

Spring-summer 2019

2021

Summer 2021

Stakeholder engagement and detailed design

Early 2022

2022