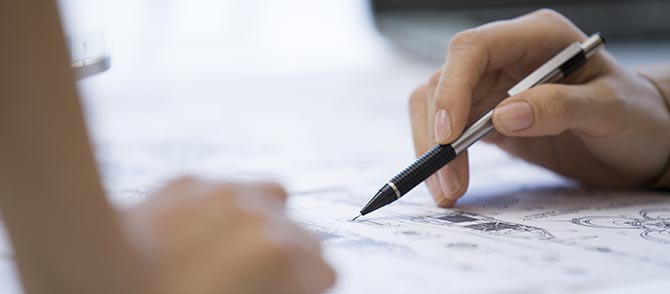 Removing the red tape: addressing the permit backlog
We are taking action to speed up our response and processing times. Actions to date are anticipated to save up to 13,800 weeks of processing.
Actions we are taking
To speed up response and processing times, we are temporarily:
Relaxing our permit application regulations and review process
Cutting steps from our process
Our goals:
Process your permits faster
Significantly reduce staff review times
Provide you with more predictable results
City Manager's task force:
Work is underway to identify the steps involved
Phased, multi-month process
Addressing our development and building permitting process has been a top priority for the past three years. However, like to many other organizations, the COVID-19 pandemic exposed underlying challenges with our processes.
With the closure of the Service Centre, we have had an exponential increase in requests.
To clear the permit and license backlog, we are taking action to speed up our response and processing times.
Updates – Summer 2022
Staff are processing more than 35% more applications across all permitting streams compared to May 2021, despite the number of new permit and licence applications doubling over the same period.
Businesses can now expect to receive their business licence in as little as six weeks, compared to 16 weeks last year.
Homeowners and businesses can now expect to receive a permit for low-complexity renovations in as little as two weeks.
Next steps
Take on an extensive review of the development permit process.
Conduct a comprehensive review of the Protection of Trees By-law.
Assess the implications of guaranteed permitting timelines.
Progress underway
Opportunity
Benefit
Anticipated savings
Status

Faster processing for some one- and two-family dwelling applications

Change in operating model of permit review.
Temporary removal of conditional guidelines and reviews in specific neighbourhoods.

12 weeks processing time per application
Extended through June 2024

Pilot a 12-month partial relaxation of the Tree By-law

(Lessons learned from this pilot will inform a fulsome review of the Tree By-law in 2023.)

Some tree permits for private property may be issued without an arborist review.

Two weeks processing time per application
Extended until December31, 2023

Pilot a 12-month partial relaxation of the Tree By-law

(Lessons learned from this pilot will inform a fulsome review of the Tree By-law in 2023.)

Trees smaller than 30centimetre diameter may be removed without a tree permit.

Two weeks processing time per application

Restored to 20 centimetre diametre

Faster processing for single family houses, duplexes, and laneway applications

Shortened initial review time
Initial contact within 2-3 days
Faster delivery of initial deficiency list

75% faster per application
Nearly 16 weeks per application
Two weeks per application

Completed
Faster processing for laneway applications
Standalone stream provides quicker initial review.
12 weeks per application
Completed
Faster processing for less-complex residential renovations
Streamlined approval
7 weeks per application
Completed
Landscape review

Reduced landscape review for demolition permits, renovations, and field reviews.

Three weeks processing time per application
Completed
Improved data collection
Pilot new data collection to streamline energy compliance (ASHRAE) process.
Two weeks processing time per application

Completed

Eliminated a backlog of 3,000 applications.

Online enquiry form

Building and development enquiries can now be submitted through an online form, which provides a tracking number for status updates via 3-1-1.

Significant savings in trips to City Hall, improved service levels, traceability of requests, and customer experience
Completed
Electronic plan (ePlan)

Electronic plan (ePlan) accepts electronic plans for six of eight permit types, electronic seals, and signatures.
Development permit applications are now accepted, paid, and processed electronically.

Significantly reduced costs related to printing, courier, drop off wait time, and customer experience
Reduce paper-based work and in-person visits

Completed
Inspections

Booking or cancelling an inspection is now a one-stop process with everything you need on one page.

Improvements in efficiency, service levels, and customer experience
Applicants for less complex renovations processed in as little as two weeks

Completed
Excavation and shoring
Eligible new developments who require excavation or shoring may receive their building permit in advance of their development permit.
Increased flexibility to begin excavation or shoring while other components of the project are finalized
Completed
Reduce requirements and costs for businesses (24-month pilot program)

Waive development permit for eligible businesses(general office, retail store, health care office, barber shop, or beauty salon, and beauty and wellness centre) changing to a different use.
Waive occupancy upgrade for eligible businesses changing between office use and mercantile.
Increase parking minimums for commercial or heritage zones to 300m.

Up to 20 weeks processing time per application for eligible businesses* changing to a different use
Up to 8 weeks processing time per application for eligible businesses changing between personal use and mercantile

Completed

Dedicated fast-track online enquiry and application page launched in spring 2022

Reduced Vancouver Building Bylaw (24-month pilot program)

Simplified application and review process.
Small suites occupancy increased to 100 persons.
Subdividing a suite no longer triggers a major renovation.

Up to 17 weeks processing and review time per application
Completed
Site drawings
Simplified site drawing requirements for eligible residential and commercial renovations.
One week processing and review per application
Completed
On site review
Detailed review of commercial and residential renovation permits will now be completed by inspectors.

Increased office staff to review applications and clear backlogs
Up to four weeks processing and review per application

Completed
Waive penalties
Waive penalties for some instances of previously unpermitted work carried out, depending on the scope and age of the work.

Reduction in staff research
Two weeks processing time per application

In progress
Contact the Development and Building Services Centre
Location and mailing address
Development and Building Services Centre
515 West 10th Avenue
Vancouver, BC V5Z 4A8
Transit nearby
Broadway-City Hall SkyTrain Station
99 B-line, #15, and #9 buses