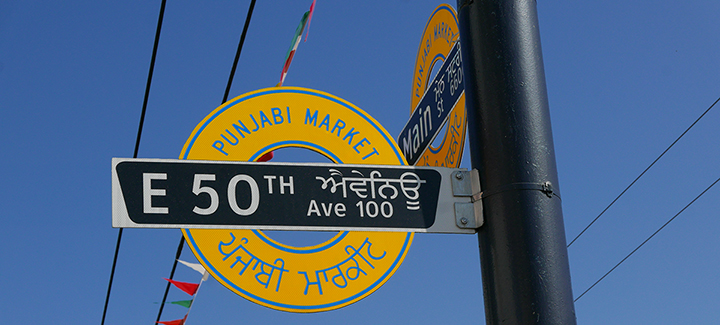 Punjabi Market
Punjabi Market is a 3-block commercial district located on Main St between East 48th and East 51st avenues. Situated in the Sunset neighbourhood—an area home to one of Canada's largest South Asian communities—the market has been a destination for South Asian culture and commerce since the 1970s.
It has historically included several Indian restaurants, sweet shops, jewellery stores, clothing stores, grocers, as well as other businesses catering to the South Asian community, local neighbourhood, and tourists.
In 2016, in response to community concerns about the future of the Punjabi Market, Council directed staff to undertake initial work to assess existing neighbourhood policy.
What's happening
50th anniversary celebrations
May 31, 2020, marked the 50th anniversary of the oldest Punjabi market in North America.
An online celebration was spearheaded by the Punjabi Market Regeneration Collective (PMRC), with our support. The event showcased the rich history of this important social, cultural, and economic hub, as well as the many aspirations for the future of the market. Review details of the celebration: Punjabi Market Regeneration Collective: PM50 Report
To mark the anniversary, City Hall was illuminated in orange. We also created a special 50th Anniversary webpage, which provided an overview of the history of the market and community efforts to revitalize this important place.
In 2019, Council directed staff to explore ideas related to the 50th anniversary, including public realm improvements and opportunities to envision the future of the market. ​​​​​​​Read the council motion (23 KB)
---
January 2020
City staff met with the community to share draft recommendations to Council and gather feedback on the proposed actions and next steps.
Feedback from the fall 2019 and January 2020 events will be included in an update to City Council, which will take place early in 2020.
Contact us
Punjabi Market Planning Team
Planning, Urban Design, and Sustainability
515 W 10th Ave, Vancouver V5Z 4A8
Get updates