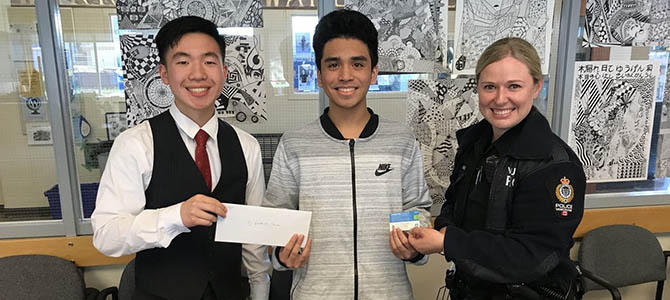 Positive Ticket program

The Positive Ticket program is developing positive relationships between the Vancouver Police Department (VPD), the Vancouver Park Board, and youth aged 10-18 years.
Youth who are witnessed displaying positive behaviours could receive a Positive Ticket, redeemable for four complimentary drop-in visits to any Vancouver Park Board pool, fitness centre, or ice rink.
Program benefits
The program is a proactive, positive initiative that can transform communities, and shift mindsets and attitudes. It can:
Empower and value young people
Build positive relationships
Create positive change in behaviour
Recognize contributions to the community
Welcome young people to Vancouver Park Board facilities as valued participants
Earn a Positive Ticket
Tickets will be distributed citywide by Vancouver Park Board Community Youth Workers, and VPD Youth Services and School Liaison officers.
Examples of how you can earn a ticket:
Be inclusive: Ask someone who is not playing basketball if they want to join the game

Respect the space and environment: Pick up garbage and recycle it

Provide support to a member of a vulnerable population: Be a positive role model for a friend

Attend programs where barriers exist: Show up for a program despite anxiety meeting new people

Improve negative behaviour: Resist peer pressure

Engage with authority figures: Interact respectfully with a VPD officer
All rinks and pools accept Positive Tickets
We have nine indoor and five outdoor seasonal pools. View their locations, features, and amenities.
We have eight indoor ice rinks. View their locations, features, and amenities.
Fitness Centres that accept Positive Tickets
Terms and conditions
Youth must be at least 13 years old to redeem a positive ticket toward fitness centre drop-ins
Youth aged 10-12 years old who earn a positive ticket, may only redeem towards pool or ice rink drop-ins
Free skate rentals are included if they choose to use their drop-in for the ice rink
Positive Tickets do not expire
Positive Tickets are transferable. For example, a young person can bring a friend or a parent can accompany the young person.
Positive Tickets hold no cash value
The program launched citywide on February 6, 2018. The first phase of distribution will run until July 31, 2018. Ongoing consideration for the program will be based on evaluation of the first phase.
Contact us