Olympic Village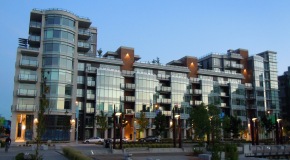 The Olympic Village, developed by the Millennium Development Group, is one of the greenest communities in the world, making Vancouver a leader in sustainable development.
In keeping with Vancouver's Greenest City targets, the Olympic Village uses innovative energy efficiency and sustainability systems like solar heating and green roofs.
Located in Southeast False Creek, the Olympic Village was built for the 2010 Winter Olympic Games, to house athletes and Olympic officials coming from across the world.
After the Olympics, the Olympic accommodation became residential housing. The development aligns with the City's goals, addressing environmental, economic, and social issues.
The Olympic Village is a mixed-use community, with approximately 1,100 residential units, area parks, and a growing number of retail and service outlets.
Related projects