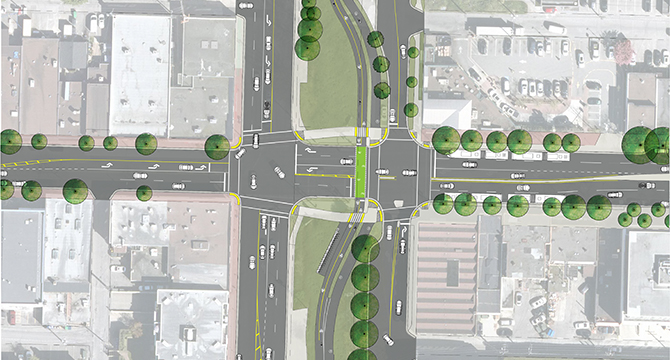 Arbutus Greenway and West 41st Avenue intersection improvements
Project area
The Arbutus Greenway, a north-south connection, is a well-used walking, biking, and rolling path and remains an important part of our city-building plans.
Currently, we are prioritizing urgent needs, including:
Safety upgrades
Enhanced connections to other routes
What's happening

Construction planning is underway

We are planning improvements to the Arbutus Greenway and West 41st Avenue intersection to make it safer and easier to move through for all users.
Key improvements
Shifting the greenway to line up with the crossing of West 41st Avenue at East Boulevard
Providing more physical separation between people walking and biking on the greenway
Constructing a new bus bulb east of East Boulevard
Adjusting turning lanes
Changing some vehicle movements to improve safety and traffic flow
Installing green rainwater infrastructure and a space for sitting and gathering
Learn more about the project (644 KB)
This project is jointly funded by the Government of Canada, TransLink, and the City of Vancouver.
Anticipated completion date: Fall 2025
Questions? Email arbutusgreenway.w41stave@vancouver.ca
Contact us