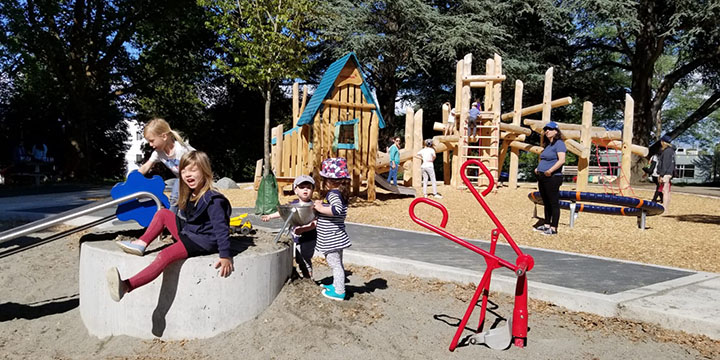 Clark Park east playground renewal
The Vancouver Park Board is upgrading the east playground in Clark Park. The current playground needs renewing due to its age and condition.
What's happening
The new playgrounds is open!
Construction of the renovated playground in the east side of Clark Park was completed in June 2018 and is now open to the public.
Timeline
Here is our progress and planned steps to rebuild the playground.
Spring 2016

Gathering community feedback

We reached out to the community in an online questionnaire to determine what should happen to the east playground site.

Summer/fall 2016

Partnering with the community

With support from us, Stratford Hall School launched a fundraising campaign to raise money for a new playground.

October 2016

Project begins

We hired an external consultant to lead the conceptual design process.

December 2016

Winter/ summer 2017

Fall 2017

Construction begins and existing playground closed

Spring 2018
Past updates
Summer and fall 2016
We held an open house on December 6 for you to view the preliminary design plans for the playground. We asked for your feedback at the event and in an online questionnaire (December 6 to January 7, 2017). A total of 210 respondents completed the questionnaire. The consultation summary below provides an overview of feedback from community members on their preferred options and what they'd like to see in the new playground. Thank you to everyone who provided feedback!
Through the initial public outreach process, Stratford Hall

, an independent school located across from the park, offered to raise the money for a new playground. Over the summer and fall, the school has been reaching out to the students and community, with the goal to raise $250,000 for a new public playground.
Spring 2016
The Park Board proposed to remove the east playground due to its age and condition, and safety concerns. We asked you to provide feedback about potential options for the site in an online questionnaire, which ran from March 15 to April 10, 2016. The results indicated that the majority of respondents would like to see a new playground replace the structure if it is removed.
Read the consultation summary

(690 KB)
Contact the project team
Lehran Hache
Landscape Designer