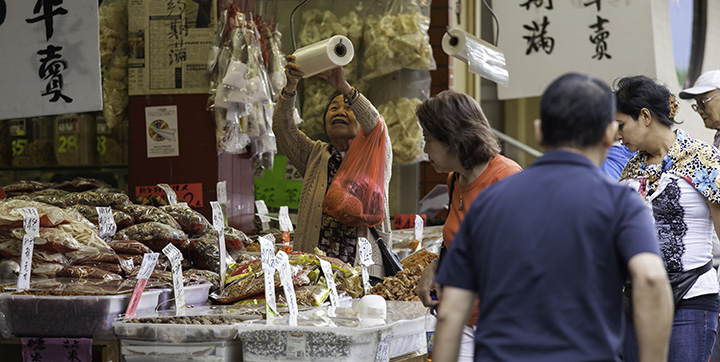 Chinatown legacy business study 華埠傳統及特色商店研究
We are studying the importance of legacy businesses to people in Vancouver. Legacy businesses are stores that a community cherishes because of their:
Connection to history
Contribution to neighbourhood character
Integral role in the community's way of life
These are a key part of our city's economy, and our daily lives. These shops and services can greatly affect how we experience our neighbourhoods.
We will use your feedback to consider what types of strategies might best support these businesses so they can continue to be a vital part of all neighbourhoods. The findings of our study will be relevant to neighbourhoods across Vancouver.
We are in the beginning stages of exploring what the strategy might entail. This study has an initial focus on Vancouver's historic Chinatown.
View material from the legacy business community forum:
溫哥華市府正在研究商店對溫哥華市民的重要性。我們身邊的社區街道上都存在有價值和值得珍惜的店鋪的例子 ── 即是所謂的"傳統及特色商店"。
傳統及特色商店是一個社區所珍視的商店,因為它們聯繫歷史、對社區特點有所貢獻、以及在社區生活方式中扮演著不可或缺的角色。這些都是我們城市的經濟和日常生活中的重要組成部分。這些商店和服務業可以大大影響我們社區生活的實際經驗。
市府職員會用您的意見來考慮哪些類型的策略可能會對這些商業有更好的幫助,從而讓這些商業可以繼續成為所有社區的重要組成部分。我們目前正處於探索制定該策略可能需要資源的初步計畫階段。
我們對傳統及特色商店的研究結果將與溫哥華市內各社區相聯繫。以充分了解市民與特定地點相關的經歷,本研究將首先關注溫哥華具有歷史意義的華埠。
社區論壇的資料:
Chinatown Transformation Team
The Chinatown Transformation Team (CTT) is a dedicated staff team formed in September 2018 to work with the community and key partners on Chinatown-related work.
The CTT, community, and partners will co-create a plan and implement actions that focus on living heritage and culture for a vibrant Chinatown. Key areas of interest include:
Tangible living heritage and culture
Intangible living heritage and culture
Business and economic development
Intergenerational relationships and community capacity building
Relationships with communities around Chinatown
This plan will propose priority projects, actions, partners, and resources to create a new Cultural Heritage Assets Management Plan for Chinatown.
The plan is a key component of the overall process towards a possible UNESCO World Heritage Site application for Chinatown, as adopted by Council on November 1, 2017.
Participants share their thoughts on legacy businesses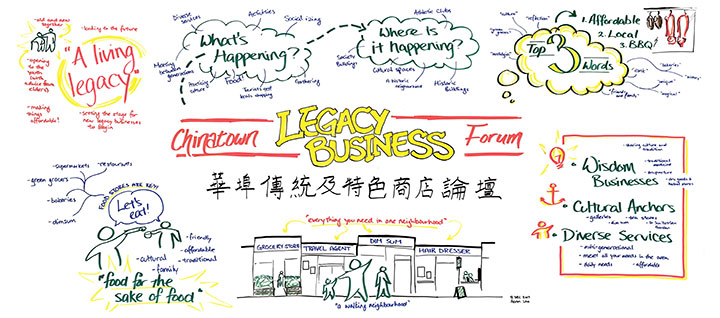 Contact a planner
Helen Ma
Planner, Downtown Eastside Planning Group
聯絡
馬凱盈 (Helen Ma - 英、粵語)
「市中心東區組」(Downtown Eastside Group) 規劃師