Pearson Dogwood Policy Statement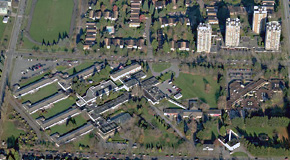 To prepare for redevelopment of the Pearson Dogwood lands, City Council directed our planning team to create a policy statement in collaboration with Vancouver Coastal Health and the surrounding community.
This planning program was developed at the request of the site owner Vancouver Coastal Health.
The 10-hectare (25.4 acre) site is located between West 57th and 59th avenues and Cambie and Heather streets.
The policy statement set principles and objectives for:
Land use
Density
Building forms and heights
Parks and open spaces
Community amenities
Transportation
Sustainability
City Council approved the policy statement in February 2014.
The site owners, Onni Group (developer) and Vancouver Coastal Health, applied in January 2016 to rezone and develop the property into a mixed-use community. On July 25, 2017 Council approved the rezoning application.
Related projects and initiatives