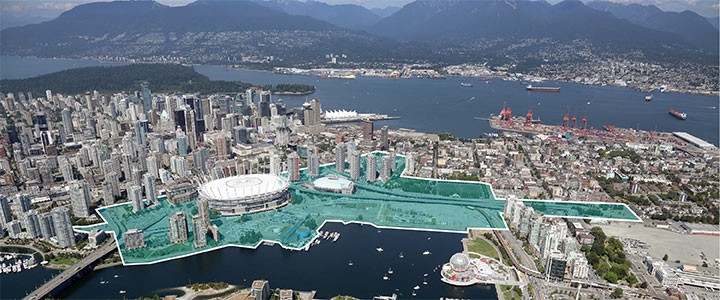 The future of Northeast False Creek
The Northeast False Creek Plan (NEFC Plan) sets the long-term vision for the last remaining piece of large undeveloped land in the downtown along False Creek.
The final plan for Northeast False Creek proposes:
A new vibrant waterfront destination with amenities including childcare, social housing, artist space, plazas, an ice rink, and a cultural centre
Opportunities for community and social development, including 1,800 units of social housing
32 acres of new and renewed parks and open space
Replacement of the viaducts with an at-grade street network that will connect Northeast False Creek to the downtown core
Review the plan (23 MB)
What's happening

False Creek North social housing

Following a Public Hearing on July 13, Council approved amendments to the False Creek North Official Development Plan and various related CD-1 by-laws and design guidelines to help deliver more than 661 units of social housing on 3 sites in the False Creek North area, 2 of which are located in the Northeast False Creek (NEFC) Plan area. (6.4 MB)

This a significant step towards realizing the vision of the NEFC Plan, which seeks to integrate a significant amount of affordable housing options in Northeast False Creek to support the development of a vibrant, inclusive, and sustainable neighbourhood.
Contact us