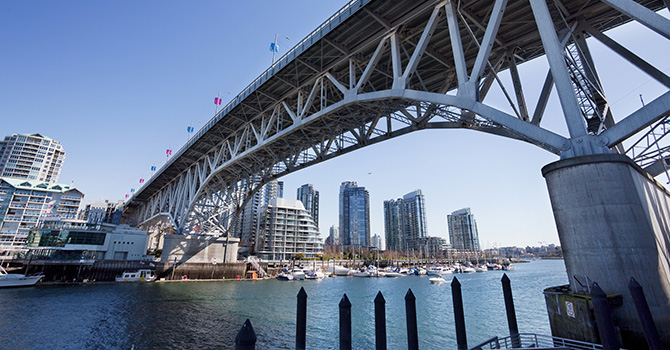 Granville Bridge upgrades - Structural repairs and recoating
We're carrying out critical structural upgrades to Granville Bridge to ensure this infrastructure continues to serve us well.
These upgrades include:
Repairing steel sections of the bridge
Renewing portions of the steel coating system
Coating systems are designed to protect structural steel from corrosion and are critical to maintaining the overall integrity of the bridge. The new coating will last 30 to 40 years, with regular maintenance.
To support this work, we will also be modifying the debris netting under the bridge.
What's happening

Phase 1 of this project will begin early October 2022

Starting in early October 2022, we will begin Phase 1 of this project which includes work on three sections under the south end of the bridge above Granville Island. Crews will use scaffolding and catwalks to complete this work with minimal footprint on the ground.
---
Bird netting maintenance
The Pelagic Cormorant (Phalacrocorax Pelagicus) is protected in BC per Section 34 of the Provincial Wildlife Act, which prohibits the possession, taking, injury, molestation, or destruction of a bird or its eggs, or a nest that is occupied by a bird or its egg (Government of BC, 1996).
The project construction activities require access to the steel truss sub-structure of the bridge which may generate noise and visual disturbance above and below the bridge deck. This may disturb the colony of Pelagic Cormorants nesting in the substructure of the bridge. In the past few years, we installed and modified bird netting underneath a portion of the main span of the Granville Bridge to prevent the disturbance of Pelagic Cormorants during construction to comply with regulatory requirements.
To support future rehabilitation, and construction work on the bridge, we will be conducting maintenance and repair works to the existing bird netting in 2023.
Did you know?
Previous repairs to the bridge include:
1997: seismic retrofit of the north and south piers
2009-2010: installation of over 3,000 steel stirrups to the concrete ramps
2012: repairs to pier M7 at the north end
2013: replacement of the steel truss span bearings
2016: repairs to the gantry system
2019-2021: seismic and structural upgrades
---
Project details
Location
This project includes work on three sections under the south end of the bridge above Granville Island.
Duration
Fall 2022 to spring 2023
The work will be carried out over multiple phases with this phase expected to take approximately seven months.
Work hours
Monday to Saturday: 7am to 5pm, extended hours as needed
Weekends: as needed
---
How this project may affect you
---
Related projects