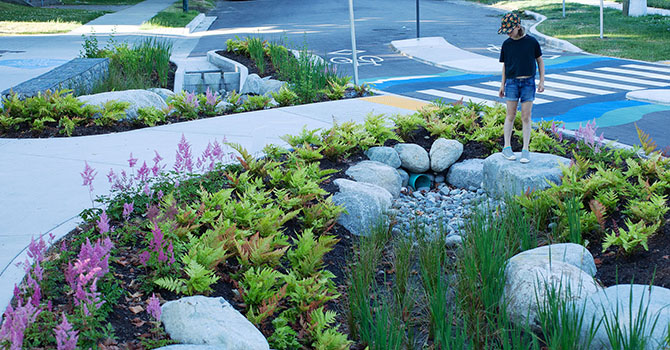 Hastings-Sunrise sewer renewal
Vancouver has a regulatory requirement to eliminate combined sewer overflows by 2050. We also need to adapt our neighbourhood drainage systems for pressures from growth and heavier rain fall expected with climate change.
Combined sewer overflows explained
Wastewater or sewage comes from household activities – like flushing toilets, laundry and cooking - that send water down the drain. Some parts of Vancouver use a combined pipe system that conveys sewage and excess rainfall in the same pipe.
During heavy rains, which we are experiencing more frequently with climate change, these pipes can become overwhelmed resulting in combined volumes of rainwater and sewage spilling into receiving water bodies like Burrard Inlet.
These overflows reduce water quality and contribute to beach closures along with polluted runoff from rainwater flowing over hard urban surfaces and picking up chemicals, litter, and other contaminants.
This project will meet that regulatory requirement and adapt the neighbourhood's drainage system for pressures from climate change and a growing population.
Project outcomes
Renew 6.2 kilometers of combined sewers with separated sewers that increase the capacity for heavier rainfall and eliminate combined sewer overflows by conveying rainfall and sewage through separate pipes
Install 45 new green rainwater infrastructure features that use plants, trees and soil to absorb and filter pollutants from rainwater, reducing the volume that enters our sewage pipes, and protecting water quality in nearby waterways
Reduce infrastructure management costs by using green rainwater infrastructure which is typically cheaper to implement and maintain than grey infrastructure like pipes
Protect public and environmental health by reducing the contribution of combined sewer overflows to the Cassiar outfall - Vancouver's second-highest combined sewer overflow location
Make the area more accessible for various modes of transportation including walking, biking, and rolling
Project features
Dry wells to collect and disperse unwanted water from rainstorms and runoff and allow it to slowly seep into the ground.
Curb bulges to narrow curbs at intersections encouraging vehicles to slow down and reducing crossing distance for pedestrians
Green Rainwater curb bulges that combine traffic calming measures and add green space
Sewer renewal to adapt the neighbourhood drainage system for growth needs and heavier rainfall from climate change
---
How this project may affect you
Contact us
This project is supported through a bilateral federal and provincial grant of $15 million through the Investing in Canada Infrastructure Program.