Print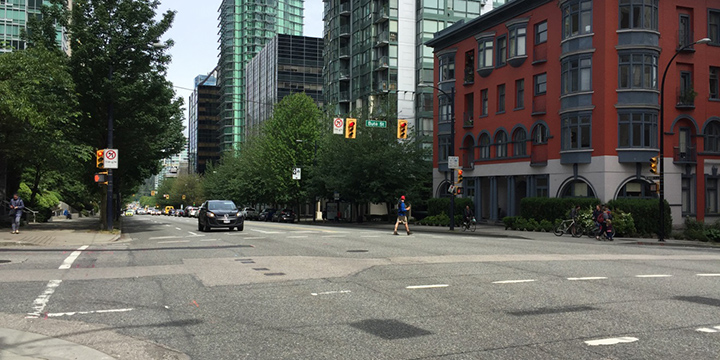 Haro and Bute Infrastructure Upgrades
We're upgrading critical water infrastructure and improving safety for all users along sections of Haro, Bute, Denman, Gilford, and Chilco streets.
Work includes replacing the existing water main below Haro and Bute with a larger-capacity system. This new water main will have a life expectancy of about 100 years to help serve this growing neighbourhood while also improving the system's seismic resiliency.
We're also coordinating street upgrades to improve safety for people walking, driving, and cycling, including improvements to the Haro Street Bikeway.
What's happening
Water main replacement
Construction is currently underway on Haro St east of Denman St.
---
Details
Location
Watermain work will primarily take place along Haro and Bute streets.
Duration
Watermain construction is scheduled in two phases from spring 2019 to late summer 2021:
Phase 1: Haro St from Chilco to Thurlow streets
Phase 2: Bute St from Haro to W Pender streets
As an example of coordinated planning, this work is upgrading multiple infrastructure assets to minimize longer-term disruptions.
Work hours
Monday to Friday: 7am to 5:30pm, extended hours as needed
Weekends: as needed
---
Improvements
---
How this project may affect you
Get updates
---
Bikeway timeline
2005

Haro Street bikeway approved by Council

Summer 2012

Signage and paint installed on Haro St

Fall 2012

Transportation 2040 plan approved by Council

Fall 2013

West End Community Plan approved by Council

Summer 2019

Stakeholder meetings

Meetings with stakeholders along Haro St to learn how they use the street and identify issues to consider or address in the street design

Fall 2019

Public consultation

Reach out to the community for input on design options to inform the final street design

Fall 2019 - winter 2020

Respond to feedback and revise design

Design refined based on public feedback

2020

Make changes to the street
Greenest City is a bold initiative that addresses Vancouver's environmental challenges.
Our plan provides a vision for how people and goods move in and around Vancouver for the next 30 years.